Due to the COVID-19 pandemic crisis, approximately 260,000 part-timers and temporary foreign workers in the country have greatly affected. Some companies are temporarily closed resulting in an increase in the unemployment rate.
Many foreign workers resorted to working part-time while looking for a full-time job. Read the "In-Demand Part-time Jobs in Japan During Pandemic" article to check the list of part-time positions available in Japan today.
The best option you may want to consider is finding online jobs in Japan. It is the best way to keep you safe and your family from getting the virus, which is definitely less stressful. Commuting to workplaces will not be needed anymore because you will work conveniently at home. You can spend more time with yourself and your family. And did you know that online jobs are distinguished nowadays? Japan is no exception to that.
You must be one of the people who searched on Google, like "highest paying online jobs" or "online jobs in Japan" keywords. No worries, for we summarized those jobs into a quick-read article for you.
Here are the ten (10) in-demand online jobs in Japan:
Online ESL Teacher/Online Tutor
Are you a teacher? Or do you like to teach? But you can't go to school because classes are suspended. You are English proficient but you don't know if that skill will earn money. Why not teach through a computer screen? And yes, you will teach at home virtually.
Due to the health crisis, a lot of parents are worried about the education of their children. Some parents around the world chose to let their children be tutored online according to the subjects needed. Parents from non-English countries such as Japan pay home-based teachers to teach their children how to write and speak the English language.
There are many companies online that are urgently hiring ESL teachers around the world with competent qualifications and awesome time management skills. You can search these jobs at Cafe Talk, English Everywhere, Eigox, E-communication, Mainichi Eikawa, Hello Sensei, Flamingo, and other Japanese sites offering online ESL jobs. If you want to know further information about how to be an English Teacher in Japan, you can refer to the "Teaching English in Japan – Everything You Should Know" article.
Teaching virtually is actually fun. You just need to follow the given modules for each session like what a teacher normally does. Most students are Asian (Chinese, Japanese, and others) kids and some are adults. Fun teaching comes with a patient personality. So if you can handle cultural differences and technical difficulties, then you can take this job easily.
For preparation, you just need to provide your own laptop or a desktop computer fitted with an HD capable webcam, a fast and reliable internet connection, own analog or USB headset with noise cancellation, and of course, your very professional appearance.
Salary: 1,500 Yen per hour
Online Transcriptionist is considered one of the popular online jobs on the internet. This type of job demands you to work only at home. Creating written copies of live speech or dictated audio for various settings, including courtrooms, law offices, physician practices, and hospitals are some of the duties.
Transcriptionists typically work in one of two fields: medical, in which they transcribe diagnostic test results, referrals and operative reports for patient files, and legal, in which they act as court reporters to transcribe dialogue at hearings and depositions.
What's the best thing about being a transcriptionist?
Transcriptionists may progress in their careers to become executive assistants, office managers, executive secretaries, or senior administrative assistants. On the other hand, medical transcriptionists can become medical secretaries or higher medical transcription positions.
Salary:  1,500 to 1630 Yen/hour
Other Data Entry Positions
This job is the easiest one, may include an online clerk job and data entry agent. You just have to enter a large amount of information from various sources into the company computer system for processing and management. You just have to be tight-lipped on this job because some data are sensitive and confidential. 
If you are literate on the computer especially using the Microsoft Office Word program and you are knowledgeable in the use of grammar and punctuation, you can apply for this job online. Many companies on the internet are hiring for data entry personnel. It is hassle-free, you just have to be accurate, be attentive, and be time-wise.
Salary: 1,013 to 1,700 yen per hour 
Working as a web assessor can generate income and is highly flexible so you can work along with other jobs. However, you need to have knowledge about current and historical business, media, sport, news, social media, and cultural affairs in Japan. This position involves evaluating the content of a website, including images, videos, and written content. To assess a range of web content related to user queries, you should have strong analytical skills, attention to detail, and excellent Japanese writing skills.
To enable you to work this job at home you need to provide a PC with Windows 7,8 or 8, high-speed internet connection, software applications such as antivirus software, adobe flash player, acrobat reader, adobe shockwave player, Microsoft Silverlight, etc.
Salary: 1,000 – 1,600 Yen per hour
Online Writer/Social Media Promoter/SEO Content Writer
Asking everything through the internet is normal nowadays. From the simplest to the most complicated things, you can have it all online. If you will search for something on the internet, you can find a lot of articles published relating to what you are searching for. Maybe you are thinking, if there are many articles published online, maybe writing is a good chance to earn money, right? Yes, you are absolutely correct. This job is Content Writing or SEO.
Phrases such as "quality writing", "appealing to audiences", "attracting customers" and "boosting brand awareness" define online content writing.
If you are aspiring to write SEO content in Japan, it is better to learn both English and Japanese language. You will do well if you are bilingual. You should learn how to read, write, and compose content in a Japanese manner.
Website owners are searching for aspiring writers to enrich their websites with new blogs, posts, guides, and marketing copy. These owners, especially from Japan, are hiring people online to write for them and pay them accordingly.
So, if you are into this field of work and you are English-speaking and Japanese language proficient, why not study SEO writing tips and start applying online not just to earn money but to also gain more experience?
Salary: 1,000 yen per hour
It is said that the IT support role is one of the jobs that earn a lot of money. That is also correct. If you apply IT support online, you can gain 200,000 to 300,000 yen monthly. That sounds, bling-bling or really good to the ears. Well, if you are a Computer Science graduate and you have a background or knowledge of computer hardware, software, applications, and nerdy ideas of computers, don't wait for anybody and start cracking computer codes by working online as an IT support.
Your duty includes installing and configuring computer hardware, software, systems, networks, printers and scanners, monitoring and maintaining computer systems and network, responding in a timely manner to service issues and requests, providing technical support across the company (this may be in person or over the phone), setting up accounts for new users, repairing and replacing equipment as necessary, and testing new technology.
Please always remember that you must have a technical, logical thought process, problem-solving skills, ability to stick to strict deadlines, ability to prioritize, and delegate, and a keen eye for details. If you are a person with such skills, online companies from Japan definitely want to hire you.
Salary: 1,940 yen per hour
Customer Development Representative/Sales Support
Talking on the phone, answering and handling complaints and questions from the customers. Is this scenario familiar to you? Probably you were a Customer Sales Representative before the pandemic started. You are the type of person who likes to communicate with people and you are really good at that. Did you know that you can do that online and home-based?
Products and Services companies from Japan are looking for people who can do this kind of job offline and online. Why? Because CSR has a sensitive role in sales. You just need to maintain a positive, empathetic, and professional attitude towards customers at all times on the phone. While at that, you also need to keep records online.
Being a Customer Service Representative is another job online for bilinguals. The good thing about speaking both English and Japanese language is that you can entertain both English-speaking clients and Nihongo-speaking customers.
Don't worry about your educational background. A high school diploma is enough for that. Additionally, please be comfortable using computers.
Salary: 136,000 yen monthly
Imagine working with the best programmers on the field. You develop and create websites and associated applications.
Are you an aspiring web designer? If you got the right computer programming skills, that would be valuable while working home-based. Plus, graphic design skills are also desirable in online jobs.
The online hiring companies are searching for you. Not just any companies, companies from Japan are hiring people virtually to design websites for them. Are you up to this offer?
Salary: 230,000 yen monthly
Teleworking Assistant/Online Assistant/Virtual Assistant
According to The Week, "There are more than 5,000 virtual assistants listed on Upwork, 74,000 on Guru, 26,000 on Freelancer, and 5,000 on PeoplePerHour". This job is pretty convenient not just because it pays well, you can also take your time doing household chores after working the desired hours per week. Also, the office is everywhere and productivity is increased.
Why does this work exist? This role is distinguished in the Internet world because managers can't manage all administrative works. It is very efficient to hire someone who can assist in this work, even home-based.
By 2020, when the pandemic arises, many foreign and local companies and managers from Japan are busiest so the demand for virtual assistants is very high. Why not try this online job for size? We are sure that you are very capable of the role that provides administrative support while working remotely.
You have to be responsible in responding to emails and phone calls, scheduling meetings, booking travel and accommodations, managing a contact list, preparing customer spreadsheets and keep online records, organizing managers' calendars, performing market research, creating presentations, as assigned, addressing employees administrative queries and providing customer service as the first point of contact.
It is required for a virtual assistant to have proven experience as a Virtual Assistant or relevant role, familiarities with current technologies, like desktop sharing, cloud services, and VoIP, experience with word processing software and spreadsheets, the knowledge of online calendars and scheduling, excellent phone, email, and instant messaging communication skills, excellent time and management skills, solid organizational skills and high school diploma; additional qualifications as an Administrator or Executive Assistant.
Salary: 1,050 yen per hour
Graphic Designer/Editorial Engineer
Did you know that Graphic design is essential to marketing and sales? It is because it's a critical component of brochures and logos. Here are the reasons why this job is in demand online in Japan. Primarily because of Japan's traditional culture, past, and history, the animation of each anime must be similarly amazing to the country's environment, and each animation must have a different graphic style depending on the manga's story. Besides, competitors in the video game maker industry are increasingly rising, where each company needs skilled graphic designers to fill in their vacant positions. So, can you imagine why this job is in-demand in Japan?
If you are a person who likes to create visual concepts, using computer software or by hand, please be a graphic designer online. As you may know, you will develop the overall layout and production design for applications such as advertisements, brochures, magazines, and reports.
Also, if you registered as a graphic designer with proven certifications, use your skill and earn money home-based.
A graphic designer working online is required to have a bachelor's degree related to the role, experience through an internship, licenses, certifications, and registrations, analytic skills, artistic ability, communication skills, computer skills, creativity, and time management skills.
Salary: 250,000 to 500,000 yen monthly
10 In-Demand Online Jobs in Japan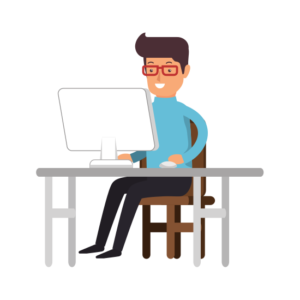 Online ESL Teacher/Online Tutor
Online Transcriptionist
Other Data Entry Positions
Web Content Assessor
Online Writer/Social Media Promoter/SEO Content Writer
IT Support Specialist
Customer Development Representative/Sales Support
Web Designers
Teleworking Assistant/Online Assistant/Virtual Assistant
Graphic Designer/Editorial Engineer
Best Websites for Online Jobs
Glassdoor

Upwork.inc

Freelance

Indeed

Careerbuilder
Those mentioned ten (10) online jobs in Japan are just a few. You can find more by searching online. Although going back to workplaces may resume gradually during or after the pandemic, choosing to work online might be the best alternative for some foreign nationals in Japan. Working from home in Japan will not only help you avoid getting the coronavirus, but this can also generate more time for yourself and your family and to support your financial needs. May our list of online jobs in Japan can help you as you start your work from home journey.