Are you wondering about Japan's employee benefits? Will you have more benefits than in your own country? In Japan, if you are employed full-time, there is a high percentage to get a lot of benefits. If you are planning to go to Japan and get employed there, then this article is written just for you.
In this article, you will learn about employment in Japan. And most importantly, you will learn about the benefits of employment in Japan. 
There are two main types of employment in Japan. The first one is the regular employment. The latter one is the non-regular employment. Let us first discuss the types of employment in Japan. 
Employed Foreigners in Japan Eligible for Benefits
Known as Seishain/正社員 (せいしゃいん) or 正規社員 (せいきしゃいん) in Japan, this is the one and only regular employment type in the country. Full-time employees are working full-time and with unlimited contracts. This means your workplace is also your home.
If you are a foreigner who wants to work in Japan for a long-time, this type of employment must be included in your visa. This way, the immigration bureau will let you in knowing you are someone stable and you can support your life inside the country.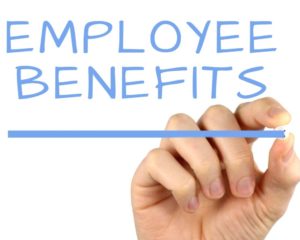 The common benefits of being a full-time employee in Japan are having essential benefits like insurance and leaves, bonuses, raises, promotions, a stable employment, and optional and extra benefits. The best thing about being a full-timer is that most of the benefits are given to you especially if you are very hardworking and loyal to the company. Seniority is a factor also.
Contractual employee
Keiyaku/契約社員 (けいやくしゃいん), being a contractual employee means you are working in a span of 3, 6, or 12 months depending on the contract. Contract breaching cannot be done unless due to an emergency or an unusual circumstance appears. Contractual employees are generally under the same insurance package as a regular employee if you work full-time.
If you work with a good performance record, you might get promoted from a contract to a regular employee.
Common benefits of being a Contractual employee are almost the same as being full time. Although a contract employee's benefits are more limited than a full-time regular employed job, there is more stability and more extra benefits than a part-time job.
Temporary staff
Haken/派遣社員 (はけんしゃいん) generally refers to a sub-type of a contractual employee, where the person has a contract with a company but they are dispatched to another company wherein they work. After completing the contract, the dispatching company will often give another job to the employee, so it is safe to say you are generally able to work for a longer span than a regular contractual employee.
However, in some circumstances, Haken jobs could be a sub-type of a part-time job, where one works with a company but is dispatched somewhere else to perform the task.
Part-time employee
Pato (パート) or Arubaito (アルバイト) is common amongst students or housewives where one may work with a flexible time schedule. You may work for a few hours a day or a few days a week. 
You can look for a lot of part-time job postings anywhere in Japan. Some companies and firms hire people as part-time employees first. 
Tips! Night shifts from 10 pm have an above-average pay.
Although part-time jobs have lesser common benefits, the best thing about the job is that it is easy to get hired, you have an easy workload, you get more free time, and you have flexible work hours.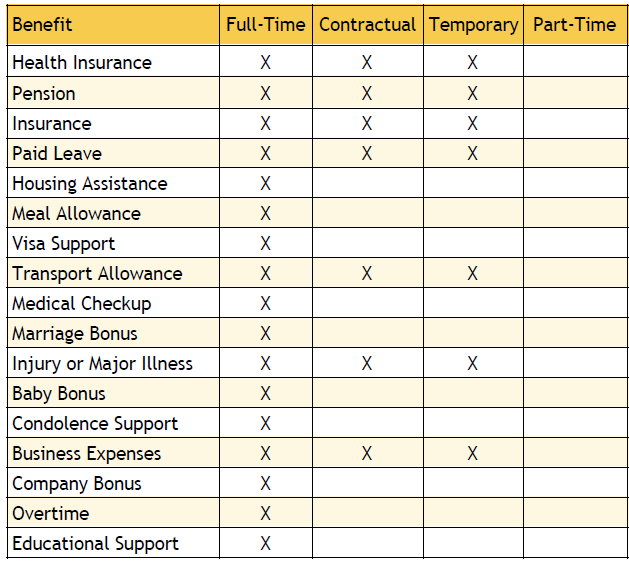 Different Types of Employee Benefits in Japan
It is a fact that your benefits while working in Japan differ depending on the prefecture you are in.
For example…
your health insurance premium while working in Niigata prefecture is 9.58% of your standard salary, whereas in Saga it is 10.73%. While Tokyo's rate is 9.87%, the payment is made by half of the employer and the other half by the employee.
So you see, even selecting a prefecture to work in Japan is very important if you want a better benefit.
Legal Benefits and Beneficiary
Health insurance covers 70% of medical costs which means you will cover or pay the remaining 30% of the standard costs. This National Universal Health care system in Japan lets employees enroll in their insurance, a benefit for all. With this system, employees will receive a Social Insurance card which they will use to visit any medical institution of their choice and receive world-class health care.
Pension lets you receive a pension after you turn 60 yrs old. Along with Social Insurance registration, employees also register with the Employee Pension system. If you worked in Japan for at least 25 years, you will receive a pension at the start of your 60th birthday. Although Pension benefits depend on your individual career, payments vary and some are relatively low. In this case, some companies give their loyal employees a lump sum upon retirement.
The National Pension system lets you receive between 100,000 JPY to 250,000 JPY monthly. Pension tax rates and benefits change regularly. So make sure you know the changes by asking the HR department of your company.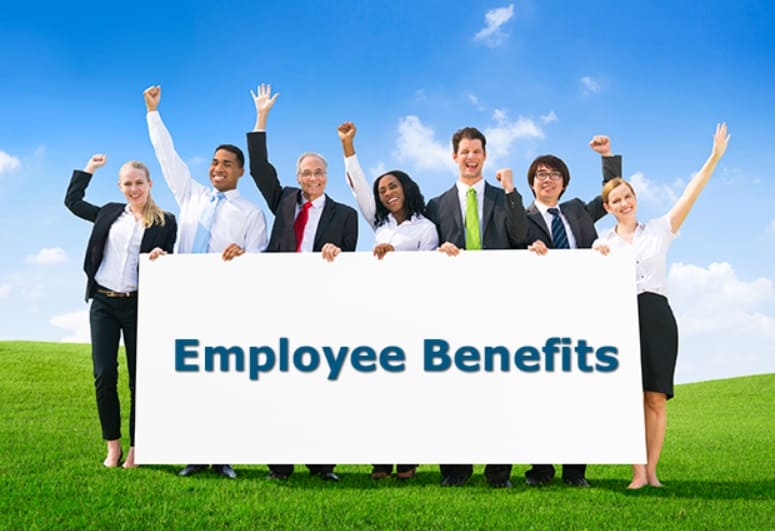 This insurance benefit in Japan provides an unemployment allowance if you work for at least 20 hours per week. However, payment is calculated based on salary, age, termination reason, and period of working. Up to 80% of salary will be given depending on the circumstances.
Paid time off (yuukyuu kyuuka a.k.a. yuukyuu) as the name suggests, lets you receive a daily-rate salary even not at work. For regular employees, you will have a minimum of 10 paid days off as a starting set. For each succeeding year, the number of leave will increase by one.
So the longer you work for the company, the more you will get paid day-offs every year. There are paid and unpaid leaves depending on your company.
In 2019, a new law was approved wherein workers who have 10 or more paid days off will be given and required to take five days off.
Optional and Extra Benefits
Living Support
Housing Assistance or Corporate Housing (shataku) will be provided by the company. This is popular today because this helps save time rather than commuting from the farthest home. You will either live with your co-workers and companies will offer this benefit with rent support. This is beneficial especially to those who are working from foreign countries.
Subsidized meals are sponsored by the company and will let you have free meals as you work.
Visa support is for foreigners who work in Japan. This will let the company sponsor and pay the expenses in getting a working visa for them. This is also for locals who will be relocated to another country to work.

Commuting reimbursement or tsuukin te-ate

offers reimbursement for transportation fees, either by trains, buses, or private cars. If you are a full-time employee, you will certainly receive this benefit. If you are using your car, you will be given a calculation for your gasoline expenses.
A

medical checkup is an annual physical check-up

for employees at any hospital designated nationwide. Under the social insurance general system "Kyokai Kempo", you will be entitled to receive this every year. The cost sponsored for the checkup is around 7,000 JPY. If you have to get advance check-ups, additional fees will be demanded.
Life Events
Marriage Bonus is for an employee who marries. Thus, five days will be given as a leave.

Injury or Major Illness

is for the employees who are injured in an accident and unexpected physical illness.
Baby Bonus is for employees who recently undergone birth.

Condolence Support

refers to leave if: 
a) Death of a father, mother, spouse, or child, will be given up to five days
b) Death of a grandparent, grandchild, sibling, child's spouse, or spouse's parent: will be given up to three days. If you are the chief mourner, you will be given an additional two days' leave.
Educational assistance

refers to the support given when you need to study certain subjects in a school within the country. For example, if you need to learn the Japanese language for your work, you will be assisted while learning Nihongo.
Overtime is given if you work diligently after the required hours in a day.
Business Expenses are reimbursements given to employees who work outside the office. If work-related, travel, meals, and lodging expenses will be fully reimbursed.
Company Bonus(shoyo or bonus) are two bonuses each year given by the company for the summer and winter season. Depending on the company, these bonuses will be divided into monthly salary. Some companies will give an extra bonus to those employees who excel in their work.
Maternity / Paternity Leave covers a 6 weeks period before the expected birth date to 8 weeks after giving birth. If approved by a doctor, one can go back to work. Up to ⅔ of the salary will be deducted from the social insurance system and will be given to the mother. Paternity leave is for fathers(employees) who need to take care of the newborn baby.

Nursing Care Leave

is for an employee who is at least working for one year or more in the company. This will let him take a 93-day leave to take care of a family member who needs nursing care attention. The company will not pay the employee during this leave.
Buddhist memorial services leave is For the first year memorial service of a deceased parent, spouse, or child. One-day leave will be given.

Jury service leave

is When an employee is elected as a juror and must appear in court. The number of days depends on the court.
Public work leave is When an employee carries out public office duties. The approved number of days also depends on his required public service.
You learned that there are benefits when you work in Japan. Still, if you want a lot of benefits while working, being a full-time employee is the best choice. Japan's employment law favors regular employees as common employee benefits stated above are given.
Relatively speaking, there is no problem working in Japan full-time or even part-time. That is because the country cares for every job hunter, either local or foreign workers. Yes, Japan cares for each employee's benefits.