Coronavirus disease, also known as Covid-19, has caused a lot of problems, not just on health, but also on the economy. In Japan, because of restrictions on personal contact, industries like tourism, travel, hotel, and others have no more customers and are forced to lay off their employees. This crisis led to an increase in the unemployment rate.
Foreigners, who currently work in Japan, are greatly affected, too. Though some of them are permanent employees and have the option to do their jobs from home, there are many foreign workers, like students and temporary residents, who are only allowed to work part-time or 28-hours per week, have lost their jobs. Even though the government has allowed an extension of the visa renewal, the question is, how can foreigners sustain their needs while they are in the country? One student exclaimed that after losing his part-time job in a restaurant, he doesn't know how he could pay for his tuition. So what part-time jobs are available today during the pandemic?
10 Most Common Part-time Jobs in Japan for Foreigners
We made a list of part-time jobs that may help foreigners to get through this Covid-19 in Japan. What are these? 
1. English Teacher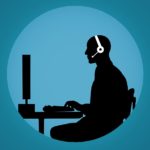 Japanese people love to learn English. There are several English language schools in Japan. However, private and public schools are closed due to the coronavirus crisis, which affects foreign English teachers working as ALT or  Assistant Language Teacher from the JET program or other ALT dispatch companies. If you are one of them who are affected by this unexpected change, get your laptop and try the other venue of teaching, which is online. Some online companies offer basic English lessons to kids or business English to adults or both. Since most people are at home and have more time to learn new things, many are encouraged to enroll in an online English class or even try to get a private tutor. Being an ESL Teacher could be new to you, but this is the best way to earn part-time while waiting for the regular classes to resume at schools. And because this can be done online, you surely will be kept safe from getting infected with the virus while earning. In "Teaching English in Japan – Everything You Should Know" article, we have a list of the best online ESL companies in Japan that will surely help you decide should you be interested in this job. 
2. Konbini Staff
Most convenience stores, or konbini, are still open because they are conveniently located where people are or pass by. If you lose your job as one of the sales staff at malls or in a retail company in Japan, getting a part-time job in a konbini could be helpful for you to support your financial needs or to survive financially during this unwanted crisis. Konbini is normally open 24/7 and thus may need part-time employees who can work graveyard or for a few hours a day. Although the payment is not as huge from what you usually earned before, working during night shifts in a konbini could get you additional payment and great perks. You may be good at speaking in Japanese and reading Japanese labels from your previous job experience, so considering a position in a convenience store would not be difficult for you. Check and apply at the convenience store near your location or you can apply to the major convenience stores in Japan.  
3. Social Media Influencer
It can be noted that through different platforms, making a video or writing a personal blog is a trend. If you are currently in Japan, why not try to blog, write informative articles, or vlog, make exceptional videos about Japan that may interest many people from your home country? You might join or are member of a group on Facebook, which is very common when working abroad, creating groups based on ethnicity. For example, Filipino workers may belong to a Filipino community, or Pakistani belongs to a Pakistani group on Facebook or other groups. This group can be your target audience. Then, find trending topics that everyone can relate to, such as how to earn during COVID-19 or how you cope with the situation while in Japan, how to stay healthy, or other interesting topics. Make use of your time by putting your creative ideas in writing or editing videos and more, not just only wasting it by doing some online games, updating SNS posts, and watching YouTube videos. Your skills may not only improve by doing such but could also help generate income. With great topics and a desirable amount of audience, you will then start to earn. You only must be careful going outside to shoot your videos and avoid getting sick after.
4. Virtual Assistant 
Even when some corporations have closed or slowed down its operation, there are businesses that are taken care of by entrepreneurs who currently are with their families at home. Because of these, they need assistance from someone even virtually, to take care of some things they can delegate like managing their social media, calendar, correspondence, online store, and others. However, competition is quite steep but if you have the unusual skills that a business owner needs, you then can find a client, not just within Japan, but from different parts of the world. Also, this is more than a part-time job, this can become a business, which should be taken seriously.
5. Food Delivery Driver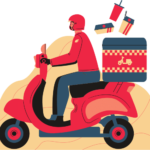 Who would not crave for something while staying at home almost 24/7 for the past 3 months? Because local restaurants are still open and take out orders increase, food delivery companies need more drivers. Foreigners, who have a license to drive in Japan, can work as a food delivery driver. The salary depends much on the number of deliveries you can make. So this is really a great part-time job. You have many options to choose from. One of the most popular food delivery service companies in Japan is UberEats, which is owned by Uber. If you want to try this part-time job, then here's the list of requirements:
Must be 18 years old and above.
Must have a valid visa with eligibility to work part-time.
You should know how to speak conversational Japanese.
Must have the following documents:
Copy of your Passport and Residence Card (what is called "My Number" or "Individual Number")
Copy of Driver's license and certificate of insurance
Bank account to receive the delivery rewards.
Aside from UbersEats, there is Maishoku, and Rakuten Delivery or you can apply in a fast-food chain near you, who also offers food delivery.
6. Housekeeper 
Do you love cleaning? That is a skill that many homeowners need. When work from home was encouraged, many working parents chose to get a housekeeper to perform house chores like cleaning, cooking, and laundry for their family. Japanese are not really interested in paying a professional cleaner or someone else. But, in order for them to keep up with their daily responsibilities, many parents choose to get help. Not only housekeepers are needed in private homes. Some companies, like for example, a laundry company, need someone to help them, like ironing.  Check our available job – "Laundry Workers For Washing Factory in Urayasu, Japan."
7. Babysitter
Parents of schoolchildren have added responsibilities when schools were closed due to Covid-19. These parents, while working at home, have less time looking after or taking care of their children. If you love kids, and more so if you are fluent in English, you have a greater chance of getting this job because parents are more willing to admit baby sitters who can teach and interact with their children in English. Native English speakers are being hired mostly in the Tokyo area. With this part-time job, you will earn as much as 1,000 to 1,400 JPY per hour, depending on your experience, plus incentives. If you have no experience in this field, then that would not be a problem, as long as you love giving care service to Japanese children. 
8. Caregiver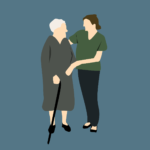 A number of foreigners in Japan work at nursing homes. Japan nursing homes continuously hire nursing staff to help the elderly in their daily needs such as walking them around, helping them to take a bath, feeding them, and other activities. Though most nursing homes hire full-time caregivers, there are part-time job opportunities, too. For this kind of work, workers may be required to undergo training, but part-time workers are not. Part-time caregivers' tasks are usually assisting those full-time staff, or depend mostly on what is given by the management. You can check out our list of caregiver jobs on our website. 
9. Translator
Despite the Covid-19 crisis, companies are still able to work with their foreign counterparts and thus, need translators to liaise with them or translate a document, or press release. If you are fluent in Japanese, you can search for companies that need translators in your local language, like English. Some translators usually don't work exclusively for a company. Working as translators for multiple companies can be done online and part-time. The work may be to translate a legal document, a script, a book, or anything. Try to check for translation jobs and you will definitely find a client.
10. Online seller
Japanese has adopted buying online, especially during this Covid-19 pandemic. Top products that they buy online are food and drinks, apparel, crafts, personal care and cosmetics, ebooks. You might have an eCommerce knowledge or simply be interested in buying and selling. A wonderful opportunity is waiting for you. The most popular online selling websites are Rakuten, Amazon, and Yahoo! Japan. Of course, it is not limited to these platforms. You can also check other ways on how to do it, like advertising your products to your friends.
This pandemic has really brought difficulty to everyone, locals and foreigners alike. But what is important, is to find ways to get through the situation. It is great to know that in times like this, foreigners in Japan have part-time job options to choose from, that they may be able to get by while we all are still facing the effects of Covid-19.
If you are wondering how to get a part-time job, you can read more about it here.