Various work in the construction industry in Japan, which include scaffolding position. But how to work as a scaffolder in the country? This post talks about the qualities and responsibilities and the average salary of those assembling safe scaffolds.
Meanwhile, let's learn why Japan became the most efficient and reliable construction system in the world. Due to the several climates that often occurred in the country, such as earthquakes, they have come up to design earthquake-resistant structures. This brilliant design idea generated significant development in the construction industry, not only in Asia but in the entire world. 
Besides, Japan's popularity was not only limited to building construction but to electric, railway, and road constructions as well. Advanced technology and skilled workers have a great attribute to such success. 
To resume the first part of this article, let's learn what scaffolding work is.
Scaffolding Jobs in Japan
The temporary platform or scaffolding is commonly used in construction work in Japan. It is called Tobi or Ashiba in Japanese, where installers make stairs or foothold for outside or inside the building.
The wedge binding system or one side scaffold is being used widely in different structures, low-rise or high-rise. In Japan, the scaffold parts must be certified and approved by the Scaffolding and Construction Equipment Association of Japan to ensure the quality and safety of the workers. With scaffolding, the completion of construction is faster and ensures the safety of workers, as well as the public at construction sites.
Scaffolder Qualities and Responsibilities
The scaffold building job role is mainly installing and dismantling scaffold structures.
The following are the attached qualities of a scaffold builder:
Not an acrophobic person, meaning no fear of heights
Physically fit, able to crawl, climb, bend, stoop, prolonged stand, and carrying heavy tools.
A successful scaffold can follow instructions carefully to prevent potential hazards.
Job responsibilities:
Responsible for assembling and dismantling of a temporary platform or scaffold structures 
Heavy lifting – The following is the list of materials a scaffold builder will carry.
An Attaching tool: 2-5 kg
A Metal Pipe: 10-15 kg
A stair: 5-18 kg
A bag of tools: 15-20 kg
working safely – wear a safety belt, helmet, and other safety equipment during work.
work effectively in teams – must coordinate other workers
maintain clean and safe job sites
How many you need to carry at once?
Its depends on the building heights:
A Metal Pipe: 4-6 pipes
A stair: 2-8 stairs
A bag of tools: 1-2 bags
Scaffold builders in Japan usually carry hundred of materials, therefore requires moving fast, shifting back and forth. It may be exhausting at first, but eventually, workers get used to it.
Work location changes almost every day, unlike working in the office or factory where people work in one place. Working as a scaffold builder or installer, after the completion of one project, and it will require the team to move into the next project sites. Moreover, different work location has different rules and job description. Therefore, you should take down or remember such important information discussed during assemble meetings.
Scaffold building Job in Japan is a 6-day per week job, usually from Mondays to Saturdays. Some of the construction company implements fixed Sunday day-off. However, others have different policies, so expect different working schedules or no fixed day-off.
Working time in construction is precise due to the potential construction hazards. Here's the example of the work schedule of scaffold builders in Japan.
-Work time is from 8:00 to 17:00 with a one (1) to two (2) hours break. (other locations starts 6 am or 7 am)
Further information about the schedule. 
•Overtime rarely occurs.
•Assemble meetings in the location sites usually start an hour or one hour and a half before the work schedule.
•Assemble meetings in the office usually start one hour and a half or two (2) hours before the work schedule.
*Assemble meeting schedules vary in every company
*The meeting time mentioned above also applies to night-shift workers.
Example based on some construction workers:
They gathered at 6:30 am in the office and arrived at 7:00 am on the construction site.
Scaffold workers can earn much higher than other jobs depending on the project type and qualifications, such as having rigging and slinging certification.
Average

Salary

ranges from 11,000-15,000JPY/day
Average per month is 280,000-300,000JPY
*Not all companies cover the insurances, and taxes will be deducted from the salary.
For more details about the cost of insurance, please watch our video – "Social Insurance in Japan" on YouTube.
The following shows the calculation of the probable net salary per year.

*Insurances are social, labor & employment.
*The salary differs from the prefecture in Japan.
Scaffolding Construction work does not require many or extensive requirements to qualify for the job. As long as you are capable of fulfilling the duties and possessed those mentioned qualities, then you can get the job. However, in Japan, every company has its own requirements. Therefore, it is important to check initially the company's own conditions or demands for their workers. Here are some of the requirements of a scaffold builder.
Japanese Language Level
Basic conversational and above preferred.
You will be working as a team, so the ability to communicate in Japanese is really required. Also, the instructions given by the manager at workplaces will be in Japanese, unless the manager speaks English. If you cannot converse well in Japanese, then collaborating with coworkers would be very hard and will cause delay or even risk of danger.
Age
A Japanese construction company is willing to hire young workers to do construction duties.
Young workers can be more efficient in carrying heavy objects and tough working situations. 
Visas
Scaffolding jobs in construction is available in full-time positions, for it requires working six (6) days a week. Foreign nationals must have a valid visa to work. However, if your permission to work only allows you to perform part-time jobs equivalent to 28 hours a week, then this job is definitely not for you.
Visas not permitted to do construction jobs are:
Student visa
Dependent visa
Furthermore, working in this field will not grant you to switch to a working visa in Japan, except for those working in the construction office or higher positions, such as Engineer or Architect.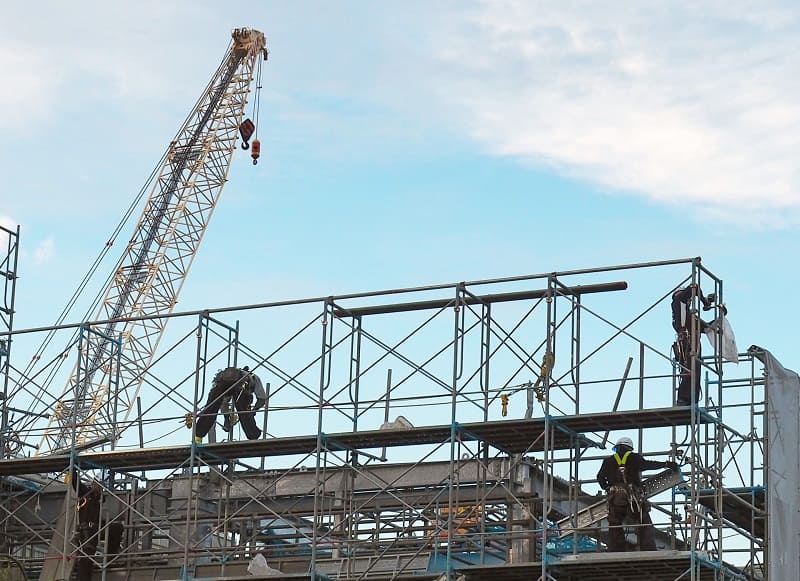 Scaffolding is an essential process in building houses and other types of structures. Since Japan's construction industry is the fastest-growing market over the years, then more Scaffold building jobs will be open for many locals and foreign nationals.
Although this job is a real tough one, the compensation is way much higher compared to other jobs in Japan. If you are interested in this job, FAIR Work in Japan offers scaffold building jobs available in Tokyo and Kanagawa. To get further information about scaffolding job information or to apply for this job, you can contact us by filling out the contact form.